#IMEX 2019 : Event organizers + #Event Canvas = innovative events !
💡Event Design: When event design becomes easier!
Imagine organizing an event under a tent. The different stakeholders go there with a specific behaviour, but as soon as they leave, their behaviour will be different.
Changing the behaviour of your stakeholders: this is the mission you should accomplish as an event organizer… and the #Event Canvas is a great tool to assist. At IMEX-Frankfurt on May 21, the whole purpose of our training course was to give organizers a hint about how you can use & practice with the method.
Our EDC (Event Design Collective) team spent 3 full days at the show. #EDUMonday, podcast, campfires and #EMEC20 were in the spotlight of this international event with great meetings that allowed us to discuss the #EventCanvas method.
🌟 The #EventCanvas methodology
This method allows event organizers to tell the story of their event in 60 seconds or less using visual language. To build an event prototype using the #EventCanvas, the work teams involved must follow a series of 14 strategic and analytical steps to understand changes in stakeholders' attitudes want to know more? : https://vimeo.com/85823395.
#EDUMonday has proven to be a very collaborative experience for the Event Design Collective as well as for the participants. Two groups of hosted buyers from different backgrounds – countries, cultures and companies of all sizes – were able to learn and apply the common language and process of Event Design.
The English session was co-facilitated with Ruud Janssen, co-founder of EDCo. Our objective of the session: to introduce event organisers to a new way of designing their events and changing the behaviour of their stakeholders.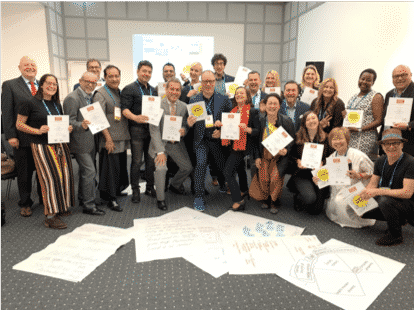 🚀 A rising method
More than 330 participants and future event designers are taking EDC Level 1 Canvas Mastery EDC training through our long-standing partnership with IMEX since 2003, as well as our excellent collaboration with Milda Salciute, Event Project Manager, and Dale Hudson, Event Director. For the 2019 edition, more than 60 event professionals were trained, in English and German.
(If you also want to join us, the next IMEX opportunity will be in September at IMEX America!)
Our interest is not only to introduce them to this new methodology for a day, but also to enable them to use this method on a personal basis for a successful event.
This show was a great event from beginning to end. 60 newly certified practitioners in CED L1 #EventCanvas, who speak the practical and visual language of Event Design and who have discovered a new practical tool to anticipate their event (and this with great enthusiasm!). These MICE industry professionals are ready to create events that change behaviour and can now better explain the value of their events to their external and internal customers.
The day after at IMEX we had an appointment regarding the Innovation Hub for a #Campfire of inspiration around the #EventCanvas and how to use the method for innovative events.
As our co-founder Ruud Janssen so aptly put it:

About IMEX:
IMEX takes place in Messe Frankfurt, one of the world's largest trade fair organisers, with 250 trade fairs and events held each year.
It is also thanks to its 11,500 hotel rooms within walking distance and its proximity to Frankfurt Airport by car or public transport (only 20 minutes) that Messe Frankfurt is considered a world-class venue for a world-class event.
"Welcome to IMEX in Frankfurt. For Messe Frankfurt, the world's largest organizer of exhibitions, exhibitions and events with its own space, it is a particular honour and pleasure to welcome IMEX since the first exhibition in 2003. »