EVENT CANVAS
PRESENTATION
WHY USING THE EVENT CANVAS

™️

METHODOLGY? 
Do you organise events ? Does your event need to be redesigned ? Is your congress losing momentum ?
The Event Canvas™️  methodology  can give meaning and strategy to all your events.
It is a strategic management model for meeting organisers to develop new types of events and conferences or document existing ones.
Would you like to talk about it ?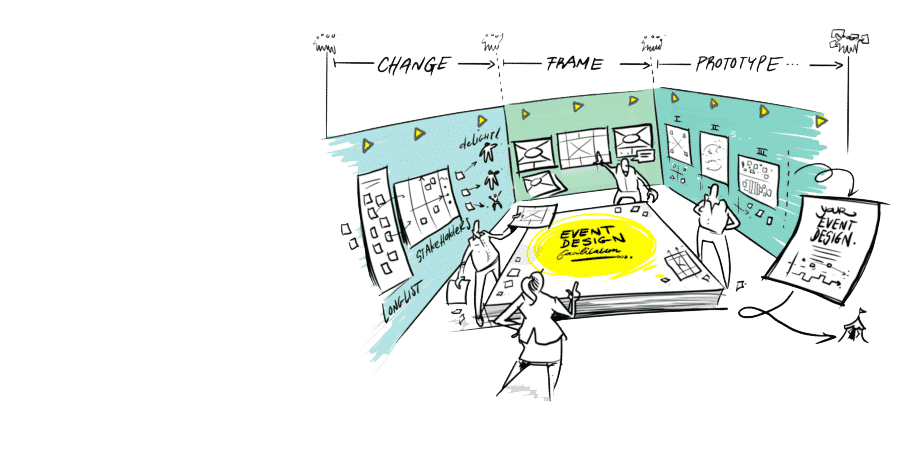 OPERATION
The #EventCanvas is designed as a common visual language that can be used by both the creator (initiator) of the event and the planning team.
The canvas allows the creators of an event to tell their story in 60 seconds or less using visual language.
This new approach consists of 14 steps in 3 parts: selecting and analyzing stakeholders,articulating change, and finally creating prototypes of events. The goal of the concept of
Meeting Design is not to draw, but to shape the ideas of each with the goal of changing thebehavior of stakeholders
WORKSHOPS
VR Consulting organizes facilitation sessions and certified training to understand the method:
Would you like to talk about it ? Make an appointment
The expected results:
– Make an impact on your event through in-depth work with stakeholders and behavior change
– Engage the people concerned through collective work
– Create (or recreate) an innovative event
– Use a process, a dedicated methodology which ensures a result
– Use a common language between stakeholders
– Tell a story about the creation of your event